:: BEVERLEY from A READING DAYDREAMER ::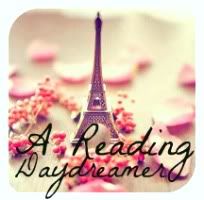 Hi, I'm Beverley! I'm a 15-year-old British-Chinese girl and live in the UK with my parents and a pesky little chihuahua called Alfie. Reading has been a life-long hobby for me and I've enjoyed it since I was little. My mum can be thanked for instilling this passion in me: she took me to the library frequently to listen to the storytelling sessions and to borrow books. One of the reasons for starting this blog was because I didn't read much at all in 2011 (I don't think I even got through fifteen books that year!) so I hope it will encourage me to read as much as it encourages others!
STALK BEVERLEY: Twitter - Goodreads - Blog
:: What do you want to be/do when you grow up?

My main ambition is to become a vet. I've wanted to study vet medicine since I was a young child and it's been something I've really wanted to work towards. Becoming a vet for real would be a lifelong dream come true! Most people think it's because I love animals, which is true, but once I got into secondary school I discovered that I loved all the science subjects too, nerdy huh? Well maybe Physics is a little boring sometimes :) I know most book bloggers want to work in the publishing industry or become an author, and I guess that applies to me as well. Since I was young, I've dreamt about being an author and I hope I can have at least one book published. Maybe I could do that part-time alongside saving animals? Oh, and maybe I could fit in piano-teaching part-time as well… although recently I've been thinking about saving that job for when I retire from saving animals ;) (Haha, future planning overdrive!)



:: Who is your favourite female lead character?

Ok, so I haven't read the books but I'm going to have to say Katniss from The Hunger Games. I went to see the film with some friends and it was beyond awesome. Katniss is the perfect example of a strong female lead character and she does us girls proud. I can't wait to read the books!!!!!



:: Who is your number one book boyfriend?

Ooohhh, that's a hard one. I wish I could say someone dark and brooding like Edward Cullen but right now my number one book boyfriend is Ryan from Skin Deep by Laura Jarratt. He's a New Age traveller – which I personally think is quite exotic – and he just sounds AMAZING. He's so kind and caring and he knows how to make people feel good about themselves. And he likes to walk around shirtless so he must be quite muscly and tanned, otherwise he wouldn't be so confident, eh?

And can I say Peeta Mellark from THG as well? Because he is so damn cute in the film ;)


:: What's your favourite thing about blogging?

My favourite of all favourites would have to be connecting with other people who share the same passion of reading (like yourself!) and realising that I'm not alone… none of my friends really like reading so I have no-one outside blogging to talk to about books (well there is one friend, but her reading tastes are quite different from mine). I never even knew the book blogging world was so BIG, I keep discovering more and more everyday which just shows just how popular reading is! I wish I could become 'real' friends with all the bloggers who I have 'met'. There should be a gathering where we all get to meet up and discuss non-stop about books. That would be soooo fun!!!!! But I digress… Oh and getting comments from readers make my day, it feels so amazing when someone says something nice on my posts – there are people out there who bother to read my views and opinions!



:: The least favourite?

And the least favourite would have to be the TIME it takes to run a blog. Reading already takes up quite a lot and then running the actual blog is VERY time-consuming. I didn't really know what I was letting myself into when I started. I thought it would be a do-as-you-please task but now I realise that I have to post reviews and other interesting things consistently to keep followers and readers interested. And that can be hard when you have important exams coming up. It's difficult to focus on revision when you're thinking about that book that's itching to be read and the blog post that's itching to be typed. I so envy the thirteen and fourteen-year-olds who blog, they have it so easy :)



:: Who's your favourite authors?

My most favourite author is Katie Dale who wrote Someone Else's Life. Her writing style is just beautiful and I could really immerse myself into her book. Others include (in no particular order): Jay Asher, Sophie Flack, Sophie McKenzie, Jodi Picoult, Laura Jarratt, Sophia Bennett, Cathy Cassidy, Stephenie Meyer, Jenny Han… the list goes on – I have far too many favourites!



:: What do you do in your spare time?

Ha! Spare time is actually non-existent now L Recently, my days seem to be filled with school work and endless revision. But usually when things aren't so hectic, I spend most of my spare time reading and blogging (obviously!). I also play the piano and violin which takes quite a lot of time. And then if there's still time left, I'll spend AGES at the computer reading the wonderful blogs which I follow (yours included!). I also like playing badminton and going to the cinema with friends – it's so relaxing!



:: Which books are you really excited to read this year?

I am soooooo looking forward to reading What's Left of Me by Kat Zhang. The cover is really gorgeous and it sounds very interesting indeed. I'm uber-excited about getting my hands on We'll Always Have Summer by Jenny Han – it's the last book in the series and I'm sure gonna miss Conrad and Jeremiah! I also NEED to read The Hunger Games trilogy, as I've already mentioned. I'm so behind, even my friends who don't normally like reading are raving about it! I feel like I'm missing out big time so they are VERY high on my to-read list. Oh, and The Selection by Kiera Cass is another book which I really want to read!



:: What was your favourite book you read last year 2011?

I must admit that I didn't read a lot of books last year – part of the reason why I started A Reading Daydreamer was because I wanted to encourage myself to read and now I'm back on track! But my favourite from 2011 has to be Sister, Missing by Sophie McKenzie. It was so thrilling and fast-paced, I just couldn't put it down!



:: As a reader, which is more important to you, the characters or the plot? (And you can't say both - I know they're both important (duh!) but pick one that you care a lot more about and why)

Characters, definitely! If I can't relate to the characters or empathise with them, the whole book is ruined for me, whether the plot is interesting or not. I've come across so many books which sound really intriguing but then they turn out quite disappointing so I've had to give up on them. It's a real shame because I wish authors could understand that it doesn't matter how extravagant the plot is, the characters are the most important. Believable characters who readers can warm to usually form the basis/foundation of the book and without a strong foundation, everything seems to topple over and go wrong.
Author Interviews on THE BOOK GODDESS: If you want to be featured on my blog, just drop me an email at: thebookgoddess@ymail.com with the subject line: Blogger Interview.